Large Emergency Survival Mylar Thermal Blankets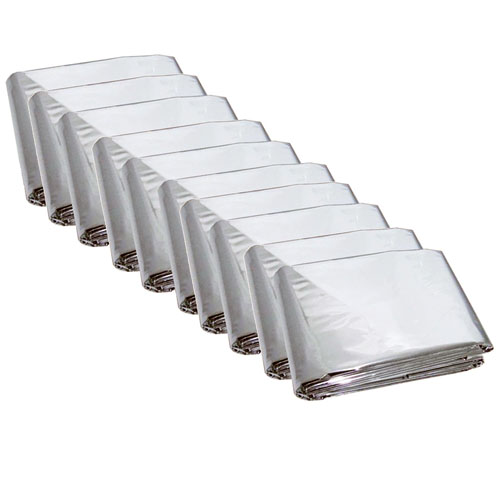 Product Features

Made of a Rugged Durable Insulated Mylar Material.
Specially Designed Emergency Rescue / Survival Blanket Provides Compact Secure Protection In All Weather Conditions.
Retains/reflects back 90% of body heat
Reusable, waterproof and windproof
Individually Sealed Packaging, folded to Compact Size For Easy Storage.
Product Description
Emergency Survival Mylar Thermal Blankets, designed to be used as an emergency survival shelter. Perfect for hiking, camping, boating, hunting, and surviving in the cold outdoors. Excellent as liner of sleeping bag. The perfect preparedness item for your Emergency Kits, Go-Bags, and Bug-Out Bags.
This multi-pack of Silver Emergency Blankets will help make sure you have one for yourself and a few extras to share with family and friends. Machine folded, they are an ultra-compact 3" by 4.5" by 3/8", but these individually packaged emergency blankets open up to a generous size of approximately 59" by 87". Most commonly used for emergency first aid and wilderness survival, these little wonders are capable of a multitude of other uses making them perfect for 72 hour and first aid kits! The blankets are a metalized plastic sheet, which can help prevent or treat hypothermia, act as a windbreaker, and can be worn as an emergency waterproof wrap. Importantly, their reflective property makes them easily seen from a distance, so use your blanket as an emergency signaling device. Since they reflect up to 90% of radiated body heat, they are also widely utilized in non-emergency situations as body wraps to keep athletes warm after a marathon or other sports activity. For these reasons, emergency blankets are indispensable and used by hikers, emergency response teams, and disaster agencies.