Military Multi Purpose Folding Shovel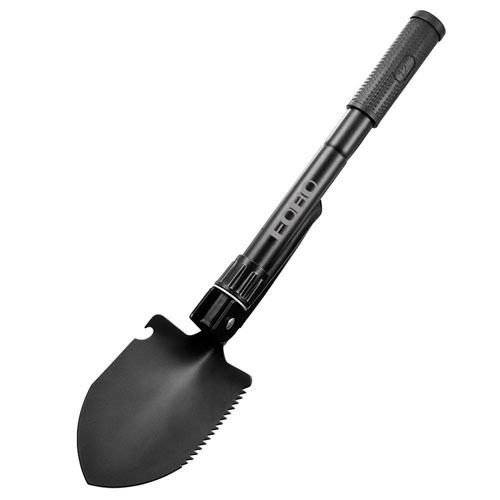 Product Features

Multi-function: digging, sawing, chopping, cutting, picking, prying, hammering, bottle opening, shoveling.
Material: high-carbon steel body and steel handle, Total unfold length: approx. 420mm.
Comfortable soft rubber grip handle, Thickened cutting edge, Ergonomic Design.
Foldable with a carrying pouch with a loop so the shovel may attach to a belt or backpack.
The military original issue e-tool entrenching shovel can be used either straight or at a 90 degree angle.
Product Description
Multi-Purpose
4-IN-1 Folding Shovel Spade with Pick,Saw,Compass is ideal for the on-the-go adventurist,camper,hunter,hiker,cyclist or mountain climber.
Open soda bottles,beer or wine bottles with the bottle opener edge while enjoying the outdoors
High Quality
Wrought iron design,makes it durable and firm.Perfect for the garden or to dig holes and set up camp.How about a winter survival emergency kit for the snow sledders, skiers and those who get stranded on the road and need to make it through the night.
Easy to carry
Hooks easily on you belt or you can use the wristband to keep it secured.
It's compact size makes it easy to put away and store when not in use. It's compact,lightweight and multi-purpose.Keep it in the garage or in the car for easy access.
Package Size:
Extended Length: 42cm/16 inches.
Folded Length: 16cm/6 inches.
Shovel Width:10cm/3.94inches.
Shovel Long:12.5cm/4.92inches.
Pick Long:11cm/4.33inches.
Cloth Pouch: 11 x 17cm/ 4.33 x 6.70inches.(L x W)