WiFi Wireless Micro SD to SD Card Adapter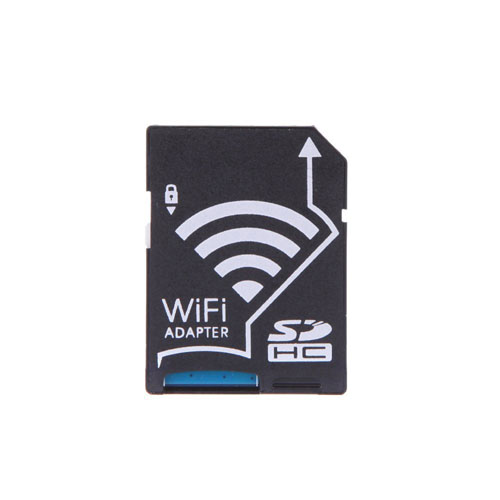 Product Features

Plug the WiFi adapter with Micro SD/TF card into your camera, and share photos you just taken to cell phones or tablet via WiFi.
SD browsing: you can access to pictures, music, video in Micro SD/TF.
Shoot & view: You can see photos that just taken by your camera and can be downloaded to your cell phone or tablet.
Setting: WiFi password, AP mode and station mode switch, IP, channels, number of users, SSID.
Supports both Apple iOS & Android devices.
Product Description
Features:
Insert your micro SD card into WiFi SD adapter and you can access high quality photos and videos sent wirelessly from your camera via WiFi to your smartphone or tablet to share. Convenient and efficient, especially suitable for professional photographer to share lovers' wedding photos, artistic photos immediately.
Note: WiFi@SD can display above file formats, but the ability to play depends on whether the WiFi device you use can support.
SD browse file formats supported:
Photo: JPG, PNG, BMP
Video: MP4, AVI, MOV
Music: MP3, WAV
Steps:
Scan QR Code on the packaging paper to download WiFi@SD APP
Plug Mirco SD/TF card into this WiFi SD adapter, and plug the WiFi SD adapter into your camera.
Open your camera.
Open the WiFi app in your cell phone or tablet, then connect with WiFi@SD, default password: 999999 or 99999999
Login WiFi@SD APP, input the default user name: admin, and default password: admin. Now you are ready to begin a fantastic experience in this WiFi@SD APP due to this WiFi SD adapter.
Specifications:
Capacity: Base on your microSD/TF card
WiFi@SD default password: 999999 or 99999999
WiFi@SD Apps default username: admin
WiFi@SD Apps default password: admin
Support language: English, Japanese, Korean, Simplified Chinese, Traditional Chinese
Item size: 2.4 * 3.2 * 0.2cm / 0.94 * 1.25 * 0.07in (L * W * H)
Item weight: 2g / 0.08oz
Package size: 12 * 9.5 * 0.5cm (L * W * H)
Package weight: 13g / 0.46oz
Package List: