5000mAh Portable Solar Charger Power Bank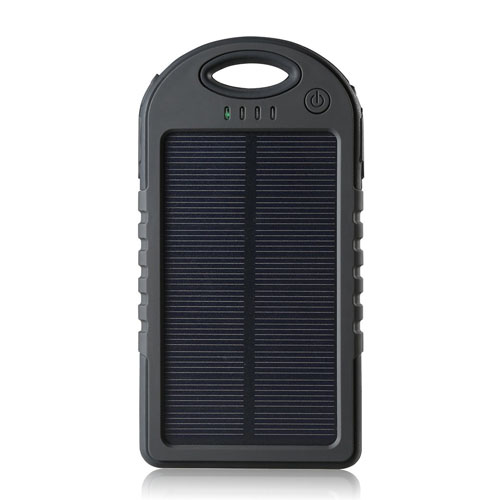 Product Features

Combo of Portable Power Bank, Solar Panel and LED Flashlight, providing continual power to your devices wherever you go
Weatherproof and Solar Energy Technology: Rugged built with rubber covering every port,sealing from rain, dust, sand and resisting impact from shock and drop; Comes with a 1.2W monocrystalline solar panel to recharge the battery under sunlight for emergency charging when outside (not a primary source of daily charging), ideal backup for outdoor activities
Fast and Safe Charging: Built-in 5000mAh Grade-A Lithium Polymer battery with 2.1A Output for quick charge, Compatible with most 5V USB-charged devices, charge a dead iPhone 6 nearly twice, 1000+ charge cycles during the course of its life
On-the-Go Portability: Lightweight(5.7oz), Palm-size (5.6*2.95*0.54inch), fits well into bag or pocket, you may also hang it on backpack with the carabiner included, easy to carry and charge on the go
Package includes: Upow Solar External Battery, Micro USB Cable, Carabiner, User Manual
Product Description
Why Upow Solar Charger?
The BEST Combo of Portable External Battery Pack, Solar Panel and Emergency LED Flashlight, not only for charging and backup but also for entertainment.
Multifunctional Combo
Upow Battery Pack continuously provides power to your hungry phones/tablets; the solar panel generates power for emergency; the LED light will light up your surrounding.
On-the Go Solution
Rugged built with great portability, you can hold it by hand, put it into pocket, hang it on your backpack or tent with the carabiner included in the package; every port is covered by rubber for weatherproof and shockproof protection, very considerate for Outdoor Activities.
Rapid Charging with Safety
We use the world's safest battery: Grade A rechargeable Li-Polymer battery, which is easy to charge and can charge other device at a top speed, most important, it's not possible to explode even over-heated; 1.2W monocrystalline solar panel captures sufficient sunlight and converts it to power efficiently for emergency charging.
Note:
Working Temperature: -20~60 degrees centigrade. Please do not place the charger on over-heated surrounding for continuous charging to avoid built-in Battery swelling up.
The solar panel is mainly for emergency use, it won't fully charge the charger for its compact size. We recommend charge Upow via an adapter or computer to shorten the charge time for daily use.