Dashboard Magnetic Car Mount Phone Holder (Gold)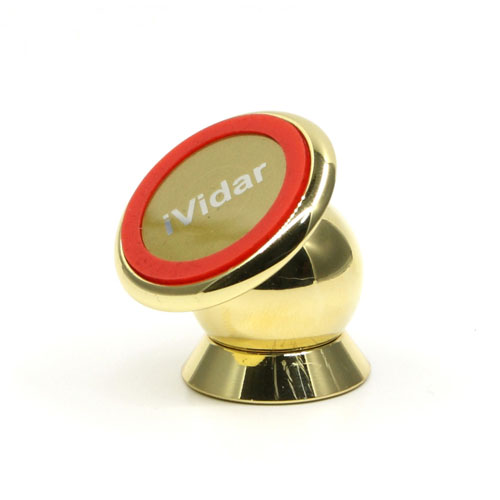 Product Features

Its cradle-less with carefully designed components that connect magnetically allowing 720 degrees of motion.
The base adhesive is ultra-strong and can be stuck to any flat and dry surface. It's so easy and simple to assemble.
This phone mount isn't just for your car dashboard. With its adhesive base, you can stick it wherever you need it.
Support cell phones of almost all sizes: iPhone, iPad, iPod, GPS, Samsung Galaxy, Blackberry, HTC, LG, Nokia, small tablet.
Features a powerful neodymium magnet to provide a strong and secure grip yet enables a smooth glide to achieve the perfect viewing angle.
Product Description
Better Vision
This iVidar Magnetic Dashboard Car Phone Holder is very beautiful, exudes a charming golden glory. Classy design, easy to use, supports almost all sizes of phones, secure, strong, and durable.
360° rotation enables portrait and landscape viewing. You can find a perfect viewing angle when you're driving.
Simple Installation
With the included adhesive metallic disk, you can simple stick it to the back of your iPhone, Samsung Galaxy S6 Edge+ or other Smartphone and portable players, and place your device with metallic disc centered over the magnetic holder.
With two extra adhesive disks, the re-installation is a piece of cake. And your mobile phone will be attached to the car mount tightly and no shaking.
Wide Range Compatibility
This iVidar Magnetic Dashboard Car Mount Holder can be used anywhere literally. Its adhesive base allows you to stick it to whatever surface you want, including your car dashboard, office desktop, or kitchen counter.
It supports cell phones of almost all sizes: iPhone 6, 6+, 6 Plus, 5, 5s, 5c, 4s, Samsung Galaxy S6, S5, S3, Note 3, Android and All Other Smartphones.
Safety Protection
Don't worries about it falling off, even if you are driving down a dirt road in the mountains this phone holder stays stuck. We have made sure that the magnetic pull is super strong to keep your phone 100% secure, without incurring any damage.
In addition, Soft rubber material covers top of magnet, your phone will not slide or scratched.
Installation Instruction
Before removing the backing, test the position of the dash ball mount in a few different places on dash. For best result, test with phone attached to dash ball mount to choose location.
Use the alcohol pad to clean chosen area.
Peel the adhesive backing from dash ball mount carefully, position the ball at a smooth, flat spot and then press firmly for 10 seconds.
A tip: Make sure the surface and the ball is at least room temperature or warmer. In freeze or cold condition the adhesive base will not stick well. If it's winter - warm up your car first.
IMPORTANT: Wait for 24 hours before applying device to dash ball mount to allow sufficient cure time for adhesive.
Package Content
1 x detachable magnetic disk
2 x metallic phone attachments
2 x 3M® tapes
1 x stainless steel ball mount for 360-degree rotation
1 x alcohol cleaning pad
1 x Construction manual
Please Note
Make sure to keep it away from credit cards, pacemakers, and other magnet-sensitive devices.