Lightweight 30x60 Folding Bioncular Telescope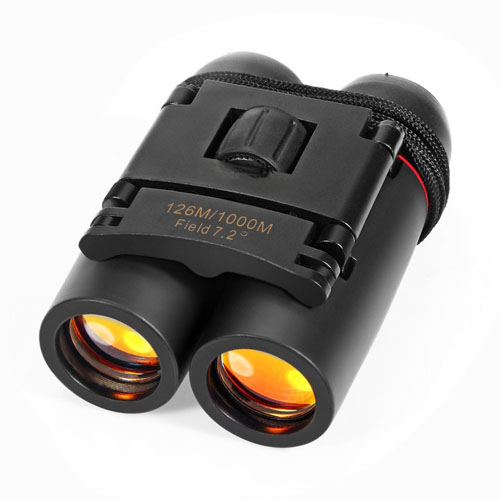 Product Features

Field of view: 7.2°, 126M /1000M , 7.2°, 126M /20000M (1000M and 20000M are theoretical values, there is few difference between them, so We will ship them for random)
Red film coated biocular telescope * Light-weight and can be folded, very convenient and easy to carry
Ideal for birding, travelling, sightseeing, hunting, observation of sporting activities and concerts, etc * Can be used for both day and night vision
Can be used for both day and night (low-light-level night vision,can't see anything in complete darkness)
Folded size: 9 x 6 x 4 cm * Open size: 9 x 10 x 4 cm * Color: Black
Product Description
Features:
Red film coated biocular telescope.
Light-weight and can be folded, very convenient and easy to carry.
Ideal for birding, travelling, sightseeing, hunting, observation of sporting activities and concerts, etc.
Can be used for both day and night (low-light-level night vision,can't see anything in complete darkness).
Magnification: 30x60. * Field of view: 7.2°, 126M /1000M, 7.2°, 126M /20000M, (1000M and 20000M are theoretical values, there is few difference between them, so We will ship them for random).
Folded size: 9 x 6 x 4 cm. * Open size: 9 x 10 x 4 cm.
Color: Black.
Package included:
1* Telescope
1* Portable bag
1* Cleaning cloth