3000mAh Ultra Slim Extended Charger Case for iPhone 6 6s (Blue)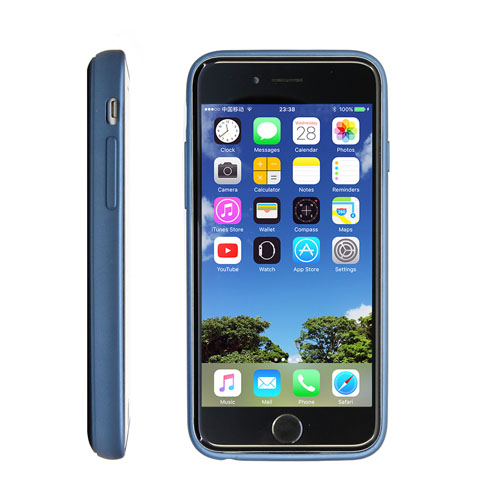 Product Features

Slim design and Impact Protection: No extra bulk at the bottom. The battery case protects your iPhone from scratches, fingerprints, smudges ,bumps and other daily tear and wear, yet small and convenient enough to fit easily in your hand or in your pocket.
Featuring SYNC-THRU Technology: charge your iPhone and battery case together. When charging, the phone will be full charged first.
Longer Battery Life: The powerful 3000mAh capacity can effectively provide 120% extra battery life to your iPhone 6 / 6s, which is 60 hours audio; 14+ hours 3G talk time; 13 hours video; 10+ hours web browsing or 3 hours 3D.
Safety: Multiple protection designs will protect users from overcharge, over-release, high temperature, short circuit and other circumstances. proving you full security.
Easy To Use : Use your iPhone as your normally would.
Product Description
Ultra Slim Battery Case
The Compact Charging Case for iPhone6 / 6s.
Maximize Your Mobile Experience
This durable, ultra-slim case enclosed a maximum capacity 3000mAh battery core, with the ability to double the lifespan of your iPhone 6 / 6s battery life for some series extra hours.
Great Protection
The iVidar Slim Power Extended Battery Case still protects your iPhone 6 / 6s from the drops and shocks.
Specification
Capacity: 3000mAh
Input: 5V/1A
Out put: 5V/1A
Operating temperature: -10℃~ 45℃
Box Content
1 x Battery Case
1 x User Manual
Note
Not compatible with iPhone 6 Plus or 6s Plus.
This case is not designed to provide screen protection.