Car Travel Outdoor Inflation Mattress Air Bed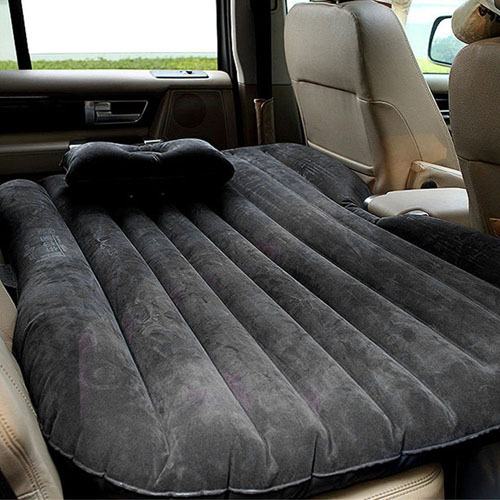 Product Features

Portable air bed,easily fits into the back seat of most cars.
It is made of compound, breathable and eco-friendly PVC material, which is non-toxic, smell-less and safe. Very soft and comfortable, the surface feels like feather.
This air mattress is cold-proof, much thicker, is benefit for your trip, travel or camping sleeping, available for kid and parent.
Easy to carry, easy to deflation, the mattress can be inflated fully and deflated convenient within two minutes.
It's multifunctional and ideal for car bed or sofa, Suitable for long distance travel, outdoor activities, camping etc.
Product Description
Features:
The Car Travel Outdoor Inflation Mattress, whether it is self driving travel or lunch occupied, is a very good choice!
This type of vehicle-mounted travelling inflatable bed is in common use in any mainstream models of cars and SUV. (Unavailable for the rear middle bridge which is particularly high and microminiature cars), Great for camping, festivals, surf trips, travel, and adventures Inflatable mattress flat, wide and comfortable, children sleep on the mattress and enjoy relaxed time,get rid of the boring of the journey.
Specification:

Size: length 140cm, width 90cm, and height 45cm
Material: PVC Oxford cloth flocking cloth
Weight: 3.2kg
Package includes:
1x car air mattress
1x 12V car electric air pump
1x maintenance package with 2 patches and a bottle of dedicated glue
Please Note:
This product is not a life-saving equipment, it can not be used in the water.
The recommended temperature inside the car is: -13 to 140 H.
Please do not use it to touch any sharp objects or cigarette.
Please tightening the nozzle during inflation process.
The air in the cushion can last about 10 hours. Please inflated it again after 10 hours for a comfortable use.