3D VR Virtual Reality Headset Glasses Kit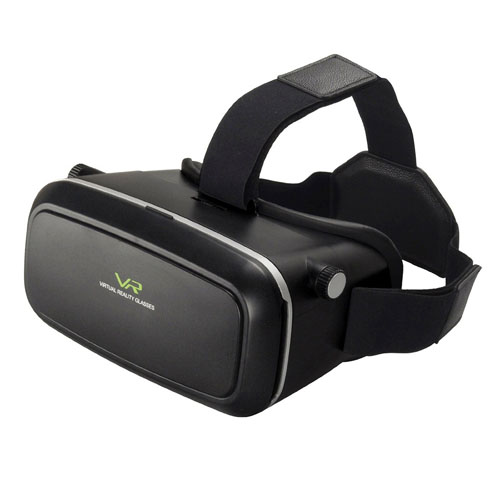 Product Features

Compatible with Android and IOS -- Fit for 3.5-6.0 inch phones(Nexus 6 and LG V10 are NOT compatible!) The max length:154mm,max width: 82mm.
Fashionable and Practical Design -- easy-removing magnetic-adsorbed front cover for heat ventilation. You can charge your phone and enjoy 3D virtual reality world at the same time.
Top Quality Lens -- Lenses are using a vacuum ion plating refined, capable of blocking electromagnetic radiation. Optical resin lenses reduce deformity,remove glare and prevent eye fatigue.
Fully Adjustable Lens -- Focal Distance and Pupil Distance are fully adjustable(The focus adjustment is NOT independent for each eye). It is perfect for people with myopia under 500 degrees.
Amazing Virtual Reality Experience -- High definition with 3D immersive experience. Works with over 300+ iOS/Android virtual reality apps on Apple App Store and Google Play Store.
Product Description
Features:
Fit for 3.5 to 6.0 inch screen size iOS and Android smartphones.(Nexus 6 and LG V10 are NOT compatible).
With adjustable strap, you can adjust this VR headset to the most comfortable size.
Magnetic clasp to keep the lid closed, which feels nice to open and close (quite secure).
Focal distance and pupil distance are adjustable. 5. Large size of lenses to get super wide viewing angle and perfect 3D experience, better than cardboard VR!
More than 300 Virtual Reality apps in Google Play store and Apple App store updated, just download "VR game" app and "3D split screen" videos to enjoy immersive, fun and exciting 3D world by Pop-Tech VR headset.
Compatible with:
iPhone 6/6S/6s 6Plus/5/5s/5c/4s/4
Samsung Galaxy S7/S6 S7/S6 edge/S5/S4/S3, Samsung Galaxy Note 5/4/3 etc.
HTC One M9/M8/M7/8X/8S
LG Nexus 5X/G4/G3/ LG Optimus G Pro/LG Nexus 5/4
Motorola Droid RAZR MAXX HD/Moto G/Moto X Pure Edition
Other branded smartphones with 3.5-6.0 inch screen, like Blackberry, Nokia, Huawei, Lenovo, Doogee, Kyocera, Asus, ZTE, Blu, Sony, Pantech, and Casio etc.
Package Includes:
1 x 3D VR Headset
1 x NFC Tag( Colors of NFC tag are sent randomly )
2 x Replacement Sponge Pad
1 x Cleaning Cloth for Lens
1 x User Manual
Note:
NFC tag only works with Android phones
The two replacement sponge pads are used to covered your volume & lock screen button to prevent your phone locking accidentally.
If the QR code does not work, please download VR apps in Google Play store or Apple App store to test if it supports Left-and-Right split screen display and full-screen display.